What is the AWIA?
In order to promote international exchange, the residents, private organizations, and local government of Aizu Wakamatsu City came together to create the Aizu Wakamatsu International Association. Our aim is to create an international city with ties to local history and nature, which respects and cares for all its residents.
The International Association aims to make Aizu Wakamatsu a comfortable and safe place for its foreign national population. The Association serves as a resource for local residents, providing information on a wide variety of subjects.
If you have questions or are in need of support or counseling, contact the AWIA today.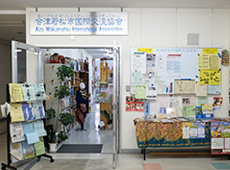 Mission Statement

Association Overview
Organization Name
Aizu Wakamatsu International Association
Location
〒965-0871 Leo Club Garden Square 5F
2-14 Sakaemachi Aizu Wakamatsu City, Fukushima Prefecture
TEL: 0242-27-3703 FAX: 0242-27-3704 E-MAIL: mail@awia.jp
Founded
April 27th, 1996
Main Activities
international exchange, foreign resident support, volunteer activities,
public relations
Organizational
Divisions
Officers (president, vice-president, director, inspector)
Executive Committee (composed of representatives from each volunteer group)
Office Staff ( office head of staff, office staff, international relations coordinators)
Hours of Operation
9:00AM-5:45PM
(Closed: Every Monday & 1st and 3rd Sunday of every month, national holidays, and the end of the year from Dec. 29th to Jan. 3rd.)