"Yummy French Kitchen"
Cooking Workshop!🍳
 Come learn how to make authentic, French-style crepes with Mrs. Emilie Bouquet Nanko! Born in Vannes, France, Emilie grew up around delicious local specialties like galettes, which she introduced to us in the August issue of this newsletter.
 Now, she's bringing the sweets straight to you with this tasty hands-on event! Spots are limited, so sign up ASAP!
■Date:
Saturday, December 4th
■Time:
2:00pm-4:00pm
■Price:
500JPY(AWIA members),700JPY(non-members)
■Capacity:
9 Groups *(The cooking studio has 9 stovetops available. Participants can join as an individual or as a group of 2 people who are able to share a stovetop.)
■Please Bring:
Apron, handkercheif
■Place:
Aizu Wakamatsu City Learning Center, 1F Cooking Studio
Aizuwakamatsu-shi, Sakaemachi, 3-50
■Sign up:
Contact the AWIA from Thursday, November 4th to
Friday, December 3rd

🎳The 2021 "AWIA Cup" Bowling Event!
 At long last, we are bringing back our annual end-of-year bowling event! Come "smash" away any lingering worries from the past year, and make some fun, fresh memories with the AWIA community! We will be grouping participants into teams beforehand, so feel free to join on your own or as a group.
 This event is open to members and non-members alike, so you are welcome to build a team with your friends! Everyone will compete together over the course of 2 games. Winners will be determined from team scores and individual scores, so players of all skill levels are encouraged to join. That's right, even total beginners are welcome!!
(The AWIA office will be closed during this event.)
■Date:
 December 12th (Sun.) 2:30pm-5:00pm
■Place:
 Sport Aizu Royal Bowl
 3-53 Nakamachi, Aizuwakamatsu
 (Free Parking Garage available)
■Price:
 AWIA Members: ¥1,000 / Non-members: ¥ 1,200
 (Includes game fee (x2) + shoe rental)
■Spots:
  Limited to 30 people
■Sign-up:
  Please contact the AWIA by phone or email by
  December 8th (Wed) to sign up!

"FIND" English Club : 🎄Christmas Session🎄
Come join the "FIND" English Conversation Club for their special Christmas session!
 "FIND" was originally created to give students an opportunity to practice natural English conversation in a casual setting. Usually, participation is limited to high school students and speakers of English who act as volunteers to facilitate conversation.
 However, many other people have recently expressed interest in the club, so for their Christmas session, "FIND" will be open to everyone regardless of age or language ability! Please check out the information below if you would like to join!
■Date:
 December 25th(Sat.)2:30pm-4:00pm
■Place:
 Aizu Wakamatsu City Learning Center, 3F Lecture Rooms5,6
■Seats:
 Limited to 20 participants
■Sign-Ups:
 Please contact the AWIA by December 24th(Fri.)
Newsletter Prep and Refreshments
Help us to prepare our newsletters for mailing! On the last Saturday of every month, from 1:30 PM to 3:00 PM, AWIA members gather at the AWIA to fold and mail next month's edition of the newsletter. Come enjoy talking with other members while you help out the association. It's also an excellent chance to put your Japanese to use!

■Date: December 25th, Saturday
■Time: from 1:30pm
■Place: Aizu Wakamatsu International Association Office

Holiday Office Closures
The AWIA office will be closed for the New Year holidays from: December 29th (Tue) ~ January 3rd (Mon)
 Regular operating hours will resume on January 4th (Tues) from 9:00 to 17:45. "Nihongo Salon" will end on December 21st and resume on January 18th. We hope you all have a warm holiday season, and we look forward to seeing you in the new year!

The Aizu Summer Sky Festival has been canceled"
*Due to the impact of COVID-19, festival has been canceled.
This event is sponsored by the "Gokujo no Aizu" Project Association and the Department of Tourism in Aizu Wakamatsu
Click here for more info
*Japanese only
"What is the Aizu Summer Sky Festival?"
 The Summer Sky Fest is an annual festival that showcases local businesses, artists, and community groups across the Aizu area. Come join us at the Tenjinhama Campground in Inawashiro for a lively summer festival experience!

"Little Trip" Seminar Series : Bolivia
 Our "Little Trip" seminar series will be returning this month for a "trip" to Bolivia! This seminar was originally scheduled for May, but was postponed due to Covid. Come learn about the diverse country of Bolivia from our guest speaker, Mr. Kazunori Sasao.
 Mr. Sasao lived in Bolivia for 2 years as a JICA ambassador, and will share some of the interesting and surprising things he experienced during his time in Bolivia.
■Date:   Saturday, Sep. 11th 10:00~11:30
■Place:  Aizu City Learning Center, 3F
■Price:  Free!
■Sign-Up: Please contact the AWIA by phone or email
      by Friday, Sep. 10th.
*Limited to 15 participants.
( This seminar will be held in Japanese.)
Hello World Club Starting Soon! and Voulnteers Wanted!
 Our annual children's class, Hello World Club, is just around the corner! Hello World aims to provide enrichment for Elementary school children in Aizu who are interested in English and foreign countries. At Hello World Club, students will learn about cultures different from their own through fun, hands-on games and activities. Students will have the chance to meet new friends and chat with special guests from around the world!
Hello World Volunteers Wanted!
 The AWIA is looking for volunteers to help with Hello World Club! We are recruiting volunteers both for culture introductions and for general assistance with activities and preparation. Volunteers are encouraged to join even if they are only available for one session. Please contact Nola at the AWIA by phone or email to join!
TEL: (0242) 27-3703  EMAIL: mail@awia.jp
September, Autumn Japanese Classes will be start!
The AWIA will soon be starting our autumn semester of Japanese language courses. With the aid of our volunteers, we offer courses ranging from beginner-level to advanced. Our classes aim to strike a balance between reading, writing, and conversation. Class sizes are small, and some students may even have 1 on 1 lessons.
If you are looking to kick-start your Japanese this autumn, please consider taking classes with us!


[Time]:
★Day Course: Every Friday 10:00~11:30 
September 3rd - November 19th (12 classes)

★Night Course: Every Thursday 18:30~20:00 September 2nd - November 25th
* no classes September 23rd.
   
[Place]: Aizu City Learning Center(Keiko-do), 3F
[Cost] : AWIA members ¥4000,
     non-members ¥6000

[How to Sign Up]:
Please contact the AWIA and let us know your desired time slot by Wednesday, August 25th.

TEL:0242-27-3703   EMAIL:mail@awia.jp
pdf                         
Online Japanese Class!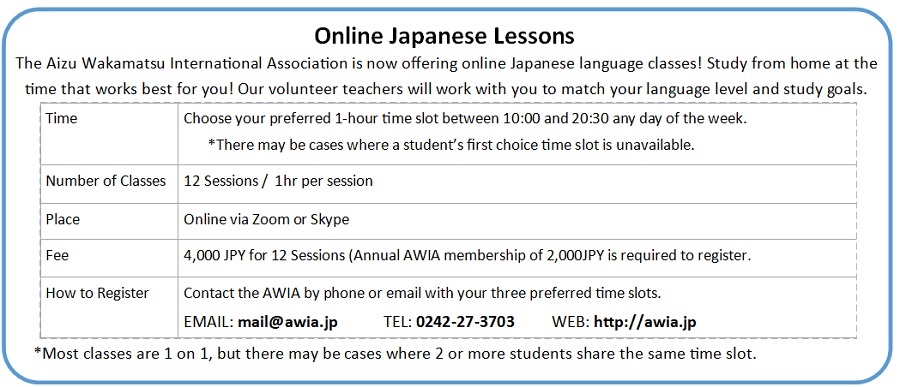 The Aizu Wakamatsu International Association is now offering online Japanese language classes! Study from home at the time that works best for you! Our volunteer teachers will work with you to match your language level and study goals.

【Time】:
 Choose your preferred 1-hour time slot between 10:00 and 20:30 any day of the week.
  *There may be cases where a student's first choice time slot is unavailable.

【Number of Classes】:
 12 Sessions / 1hr per session

【Place】:Online via Zoom or Skype

【Fee】:
 4,000 JPY for 12 Sessions (Annual AWIA membership of 2,000JPY is required to register.)

【How to Register】:
 Contact the AWIA by phone or email with your three preferred time slots.

EMAIL: mail@awia.jp TEL: 0242-27-3703
WEB: http://awia.jp

*Most classes are 1 on 1, but there may be cases where 2 or more students share the same time slot.
pdf

Coronavirus and Vaccine Updates
New updates Nov. 1st ----
■Aizu Wakamatsu Reaches 70% Vaccinated
At the end of October, Aizu Wakamatsu city reported that 71% of Aizu residents over the age of 12 have been fully vaccinated. An additional 17% are schedule to be vaccinated over the coming weeks, leading to a projected vaccination rate of nearly 90% by the end of the month.
■Aizu to Pause Vaccinations at the End of the Month
Due to the significant progression of Aizu's vaccine campaign, the city has announced that they will be temporarily pausing vaccination reservations this month. For those who still wish to be vaccinated, but have not made a reservation, please keep in mind the deadlines below.
・Deadline to reserve 1st vaccine dose:
  Friday, Nov. 5th
・Deadline to reserve 2nd vaccine dose:
  Tuesday, Nov. 9t
-----------------------------------------------------------
Aizu-Wakamatsu Opens Vaccine Waitlist for Sudden Cancellations and Vaccine Surplus
 Aizu Wakamatsu has opened a waiting list for anyone willing to receive their vaccine on short notice in the event that someone cancels a reservation or there is a surplus of doses at the end of the day.
 If you have already made a reservation to receive your vaccine, your scheduled inoculation day must be more than 14 days away to be eligible for the waiting list.
 To register, visit the Aizu Wakamatsu city homepage and look for the "Innoculation of Surplus Vaccine" article under the "About New Coronavirus Vaccination" page.
Click here for the HP
■Aizu Wakamatsu Passes 50% Inoculation Rate in Vaccine-Eligible Population
 In late August, Aizu Wakamatsu opened vaccine reservations to all residents over the age of 12. On September 19th, the city homepage reported that 55% of Aizu residents had received both their first and second dose of the vaccine. More than 82% of vaccine-eligible residents have made a reservation for at least one dose of the vaccine.
 Furthermore, over 95% of Aizu's over-65 elderly population have received both does of the vaccine.
--------------------------------------------------
■Vaccine Reservations Open for All Age Groups
 On August 5th, vaccine reservations in Aizu Wakamatsu city were opened to all residents over the age of 12. Reservations were briefly closed due to a rush of calls, but were re-opened again on August 7th. Reservations can be made online or by phone, but there have been several reported issues with the online system. Foreign language support is available by phone.
■Aizu Plans to Finish Vaccinations by November
 As of August 17th, nearly 54% of Aizu residents between the ages of 12 and 64 had made a reservation to receive their vaccine, and nearly 90% of residents over the age of 65 had received at least one dose. In the most recent version of Aizu's vaccine plan, the city has stated that they hope to finish vaccinations for all willing residents by the end of November.
■List of Clinic Openings Posted to the City Homepage
 The city is keeping an updated list of all clinics that have openings to distribute the vaccine. As of August 17th, the earliest possible opening was October 11th. If you haven't already made a reservation, we highly encourage you to make one as soon as possible. Please do not hesitate to contact the AWIA if you need help making a reservation.
City Homepage click here

Aizu's Covid-19 Vaccine Rollout
Vaccination Passes for Aizu Residents Ages 16 - 64 to be Distributed This Month
 Aizu Wakamatsu city will soon begin distributing vaccine passes by post to all residents between the ages of 16 and 64. Vaccine passes are to be sent out starting July 15, and can be expected to arrive by July 21st. Older residents and those with underlying health complications will be prioritized for earlier vaccination. Please remember to make a reservation during or after the period indicated on your vaccine pass.

Vaccine Reservations Can Now be Made Online
 Until recently, reservations to receive the coronavirus vaccine could only be made by phone. For obvious reasons, the city has finally implemented an online reservation system. Reservations to receive a vaccine can now be made through the Aizu Wakamatsu city homepage. Click here for more info


*Please check below to confirm when your age group is eligible to make a reservation.
Age Group:
■60-64 July 29th(Thurs)
■40-59 August 2nd(Mon)
■12-39 August 5th(Thurs)
78% of Aizu's Elderly Have Received at Least One Dose
 According to a report from the city office, 27,961 elderly people in Aizu had received at least one dose of the coronavirus vaccine as of June 20th. This number accounts for 78% of Aizu's 65 and over population.
*Once you receive a vaccine pass, please do not hesitate to contact the AWIA if you need any assistance making a reservation.
COVID-19 Hotline for Fukushima Foreign Residents
A COVID-19 dedicated hotline is now available for foreign residents in Fukushima.
Service is free of charge. Confidentiallity is guaranteed.
【Free Call】:0120-992-860
【LINE】:Scan the QR code
pdf
Links on COVID-19 related info.→
Click here