2022 International Festival!
It's almost here!! The 2022 Aizuwakamatsu International Festival is next month! The Festival's theme is "WOW! World of Wonders" and we hope you will be 'wow'-ed by the booths and events at the Festival. Come and have fun with us!
Date: October 9th, Sunday 10:00~15:00
Place: Tsuruga-jo Castle Gym
⭐Booth Info Session
 If you are running a booth, or food stall for the first time this year, feel free to attend our info session!
 
 Date: September 10th, Saturday
 Time: 15:00-16:00
 Place: AWIA(or Zoom)


⭐We need volunteers!
Volunteers wanted for festival preparations both on the day and leading up to the event! Contact the AWIA for more information.

-General festival prep:
 Planning, leaflet distribution, poster making, decoration making, etc.

-Oct 8 (Sat) 13:00-19:00:
 Purchase of equipment, venue/booth setup

-Oct 9 (Sun) 8:00-16:30:
 Preparation, venue guides, booth/stall support, clean up etc.


⭐Cosplay Parade: Wear your costumes!

We will have a cosplay parade this year and we're looking for participants. Have a Halloween costume? A lovingly made cosplay? Come show it off at the festival! People who come in costume will get a special treat!



⭐Please consider sponsoring us!
 In order to put on the best event we can, we are seeking donations to be put towards the festival.

★Sponsorship amount:
  ¥3,000 (or from ¥1,000 for individuals)

★How to become a sponsor:
  Please apply directly at the AWIA offices.

※If you would prefer a bank deposit slip to be issued for your donation, please contact us.

★All of our group and individual sponsor's names will be featured in our event pamphlets (only if desired).

🎃Halloween Parade/Scavenger Hunt🎃
We have a Double Event for Halloween!
⭐️Halloween Parade:
 🎃Date: Oct 30th (Sun) 14:00-14:20
 🎃Meet at: Lion D'or Garden entrance
       (2-14, Sakae-machi, Aizuwakamatsu City)
 🎃Sign-up: Free
Show off your costumes and walk with us to the castle!
⭐️Halloween Scavenger Hunt
 🎃Date: Oct 30th (Sun) 14:30-15:30
 🎃Meet at: Visitor`s center. (near the sitting/eating area)
⭐️Rainy:
 🎃Date: Oct 30th (Sun) 14:00-15:00
 🎃Meet at: AWIA office
       (Lion D'or Garden 5F, 2-14,
        Sakae-machi, Aizuwakamatsu City)

"FIND" English Conversation Club
AWIA member-led English conversation club "FIND" is meeting this month! FIND was designed by and for high school students, with the aim of creating a space for English learners to practice casual conversation skills.
 Although the club is mainly for students, adults with high English proficiency may also apply to join FIND as a language volunteer. Contact the AWIA to join!
■Date/Time: Saturday, October 15 10:00-11:30
■Place: Aizu Wakamatsu City Learning Center 3F Room 1
■Sign Up: Contact mail@awia.jp by Friday, September 16
Newsletter Prep and Refreshments
Help us to prepare our newsletters for mailing! On the last Saturday of every month, from 1:30 PM to 3:00 PM, AWIA members gather at the AWIA to fold and mail next month's edition of the newsletter. Come enjoy talking with other members while you help out the association. It's also an excellent chance to put your Japanese to use!

■Date: October 29, Saturday
■Time: from 1:30pm
■Place: Aizu Wakamatsu International Association Office              
Inbound Guide Monitor Tour🍁
Our volunteers have been working hard and we're looking for some people to practice tours on! Come join us for a practice tour of the Urabandai and Kitakata Area, and enjoy the beautiful colors of fall.

■Date: Oct 23rd (Sat) 9:30-16:00

■Participants: up to 10 people

■Cost: FREE - but we ask for your feedback

■Tour Route:

 Urabandai Visitor Centre Goshikinuma

 LUNCH:

 Kitakata Shingukumano Shrine and Nagatoko (and Giant Ginkgo Tree)

■Sign up: Contact AWIA (mail@awia.jp) by Oct 16!              
🍁Autumn Japanese Classes will be start!
The AWIA will soon be starting our autumn semester of Japanese language courses. With the aid of our volunteers, we offer courses ranging from beginner-level to advanced. Our classes aim to strike a balance between reading, writing, and conversation. Class sizes are small, and some students may even have 1 on 1 lessons.
If you are looking to kick-start your Japanese this autumn, please consider taking classes with us!


[Time]:
★Day Course: Every Friday 10:00~11:30 
Sep 2 - Nov 25 (no class Sep 23) 12 classes


★Night Course: Every Thursday 18:30~20:00
Sep 1 - Nov 24 (no class Nov 3) 12 classes
  
[Place]: Aizu City Learning Center(Keiko-do), 3F
[Cost] : AWIA members ¥4000,
     non-members ¥6000

[How to Sign Up]:
Please contact the AWIA and let us know your desired time slot by Wednesday, August 24.

TEL:0242-27-3703   EMAIL:mail@awia.jp

[pdf]
Online Japanese Class!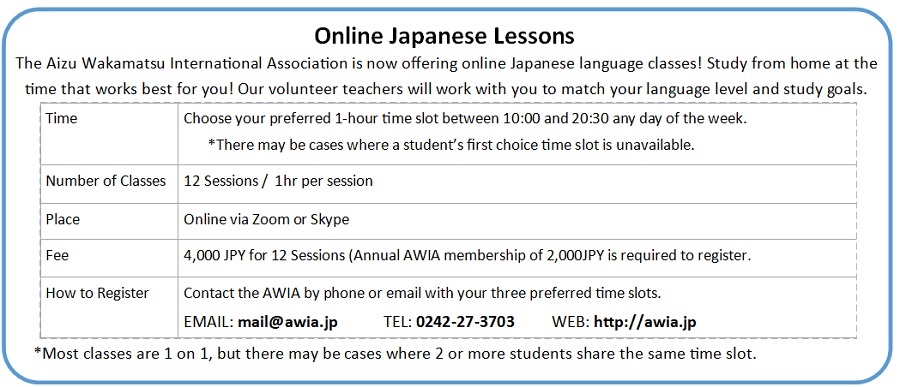 The Aizu Wakamatsu International Association is now offering online Japanese language classes! Study from home at the time that works best for you! Our volunteer teachers will work with you to match your language level and study goals.

【Time】:
 Choose your preferred 1-hour time slot between 10:00 and 20:30 any day of the week.
  *There may be cases where a student's first choice time slot is unavailable.

【Number of Classes】:
 12 Sessions / 1hr per session

【Place】:Online via Zoom or Skype

【Fee】:
 4,000 JPY for 12 Sessions (Annual AWIA membership of 2,000JPY is required to register.)

【How to Register】:
 Contact the AWIA by phone or email with your three preferred time slots.

EMAIL: mail@awia.jp TEL: 0242-27-3703
WEB: http://awia.jp

*Most classes are 1 on 1, but there may be cases where 2 or more students share the same time slot.

[pdf]

Coronavirus and Vaccine Updates
New updates August 2022

In recent weeks, Japan has been seeing an increase in COVID-19 infections due to the BA.5 variant of the Omicron COVID strain. Please take care of yourselves!

■Free Vaccination Period

 The period for receiving a vaccine free of cost will end on September 30 (Fri). Anyone has not received their initial two vaccines or the booster should book an appointment as soon as possible. The city expects reservations to be in high demand in September, and only a limited number of clinics are providing 1st-3rd vaccinations now. To make an appointment, please use the online booking system, or call the reservation hotline.

■Online bookings: https://vaccines.sciseed.jp/aizuwakamatsu/login

■Reservation hotline: 0120-050-503 (Mon-Sun, 9:00-18:00) For more information, contact the Aizuwakamatsu COVID-19 General Call Centre (0570-026-263)

☆1st/2nd vaccination reservations by hotline only

☆You need your vaccination voucher number when making a reservation.

March 2nd.-----------------------------------

■Aizu Begins Distributing Booster Shots

 This month, Aizu-Wakamatsu will begin distributing the 3rd "booster" shot of the Coronavirus vaccine. Individuals who received their second dose of the vaccine last August can expect to receive their vaccination voucher in the mail sometime this month. For those who received their second dose in September or later, please keep an eye out for your voucher to arrive in April or May.

■Two Ways to Make a Vaccine Reservation

 After your vaccine ticket/voucher arrives in the mail, you are eligible to make a reservation to receive your vaccine. Reservations can be made by calling the reservation hotline, or by using the online reservation portal. The reservation hotline may be congested during certain hours, so we recommend making a reservation online if possible. Please follow the QR code enclosed with your vaccine ticket to access the online reservation system. When you make a reservation, you will need to enter the vaccine ticket number printed on your vaccine ticket, so please have the ticket on hand when you make a reservation. If you choose to make a reservation by phone, you will be asked about your preferred medical institution, so please prepare the names of 2-3 medical institutions near your home if you have a preference for where you wish to be vaccinated.

 If you need any assistance making a reservation, or have any questions about vaccine distribution, please do not hesitate to contact us at the AWIA! We are happy to help you make your reservation if you need any language assistance!

New updates Feb. 29th ----

■Aizu Wakamatsu Begins Distribution of 3rd (Booster) Vaccine Shot

 Starting this month, Aizu Wakamatsu will begin distributing vaccine passes by mail to residents over the age of 65 who are eligible to receive a 3rd dose of the Coronavirus vaccine. In principle, Aizu residents will be eligible to receive a booster shot once 6 months have passed since they completed their second round of vaccinations.

 Residents under the age of 64 are expected to begin receiving vaccination tickets by mail sometime after March. For more details about scheduling and reservations, please visit the Aizu Wakamatsu City homepage, or check out the English version of the City Newsletter.

■Fukushima Prefecture Announces Enhanced Infection Prevention Measures from January 27th to February 20th

 The prefectural government has once again requested a period of enhanced infection prevention measures across the prefecture. The measure includes requests for reduced business hours for restaurants and bars, as well as a general request to the public to avoid gathering in groups of 5 or more.

-----------------------------------------------------------
■List of Clinic Openings Posted to the City Homepage
 The city is keeping an updated list of all clinics that have openings to distribute the vaccine. As of August 17th, the earliest possible opening was October 11th. If you haven't already made a reservation, we highly encourage you to make one as soon as possible. Please do not hesitate to contact the AWIA if you need help making a reservation.

City Homepage click here

Aizu's Covid-19 Vaccine Rollout
78% of Aizu's Elderly Have Received at Least One Dose

 According to a report from the city office, 27,961 elderly people in Aizu had received at least one dose of the coronavirus vaccine as of June 20th. This number accounts for 78% of Aizu's 65 and over population.

*Once you receive a vaccine pass, please do not hesitate to contact the AWIA if you need any assistance making a reservation.

COVID-19 Hotline for Fukushima Foreign Residents

A COVID-19 dedicated hotline is now available for foreign residents in Fukushima.

Service is free of charge. Confidentiallity is guaranteed.

【Free Call】:0120-992-860

【LINE】:Scan the QR code

pdf

Links on COVID-19 related info.→

Click here


June 4th, Annual Business Report Meeting & Commermorative Lecture
Last Saturday (June 4th), we had our Annual Business Report Meeting. During it, together with members of the association and city officials, we presented last year's events, accounts, this year's plans, budgets, and executives.

 After that, we had a special Commemorative Lecture by Mrs. Josie Hasegawa who, with her decades-long experience being an interpreter (especially in the medical field, including at Takeda Hospital, Aizuwakamatsu), touched on the topics of the lessons she's learnt being a communicator with various cultures and aspects that could benefit and improve not only interactions in the medical environment in Japan, but also in our daily lives.

 It was an event that was filled with both local and foreign Aizu residents, who not only warmly welcomed Josie San back to Aizu, but also discussed how they could look out better for each other as a community.

 In the end, she expressed her hopes to make a place in Aizu where everyone can have the opportunity to connect with each other easier.

【Annual Business Report Meeting】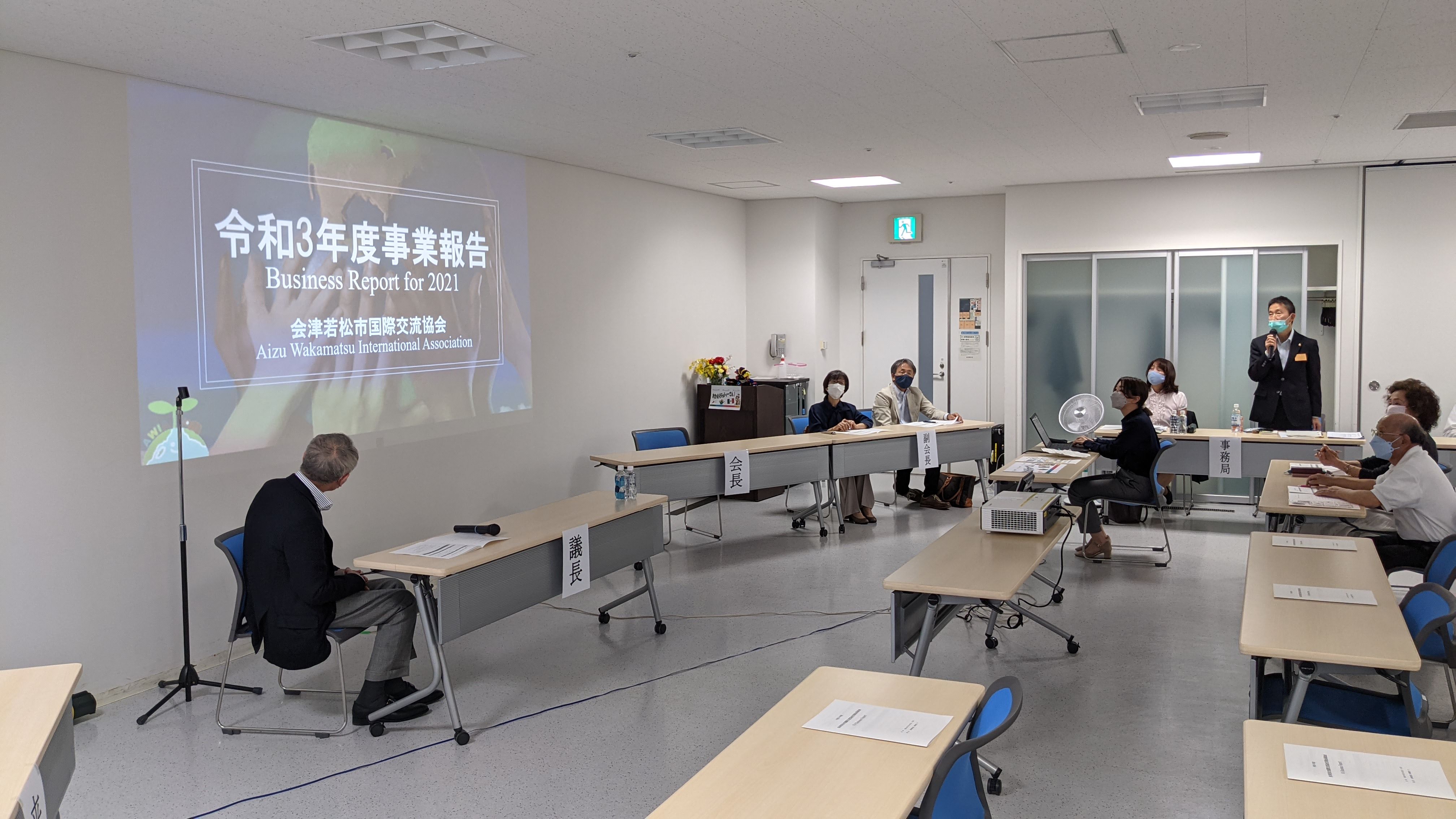 【Commemorative Lecture】