AWIA office Closures
AWIA Office Holiday Closures: Dec 29th, 30th, 31st, Jan 1st, 2nd, 3rd. Normal hours from Jan 4th (Thu) (9:00-17:45)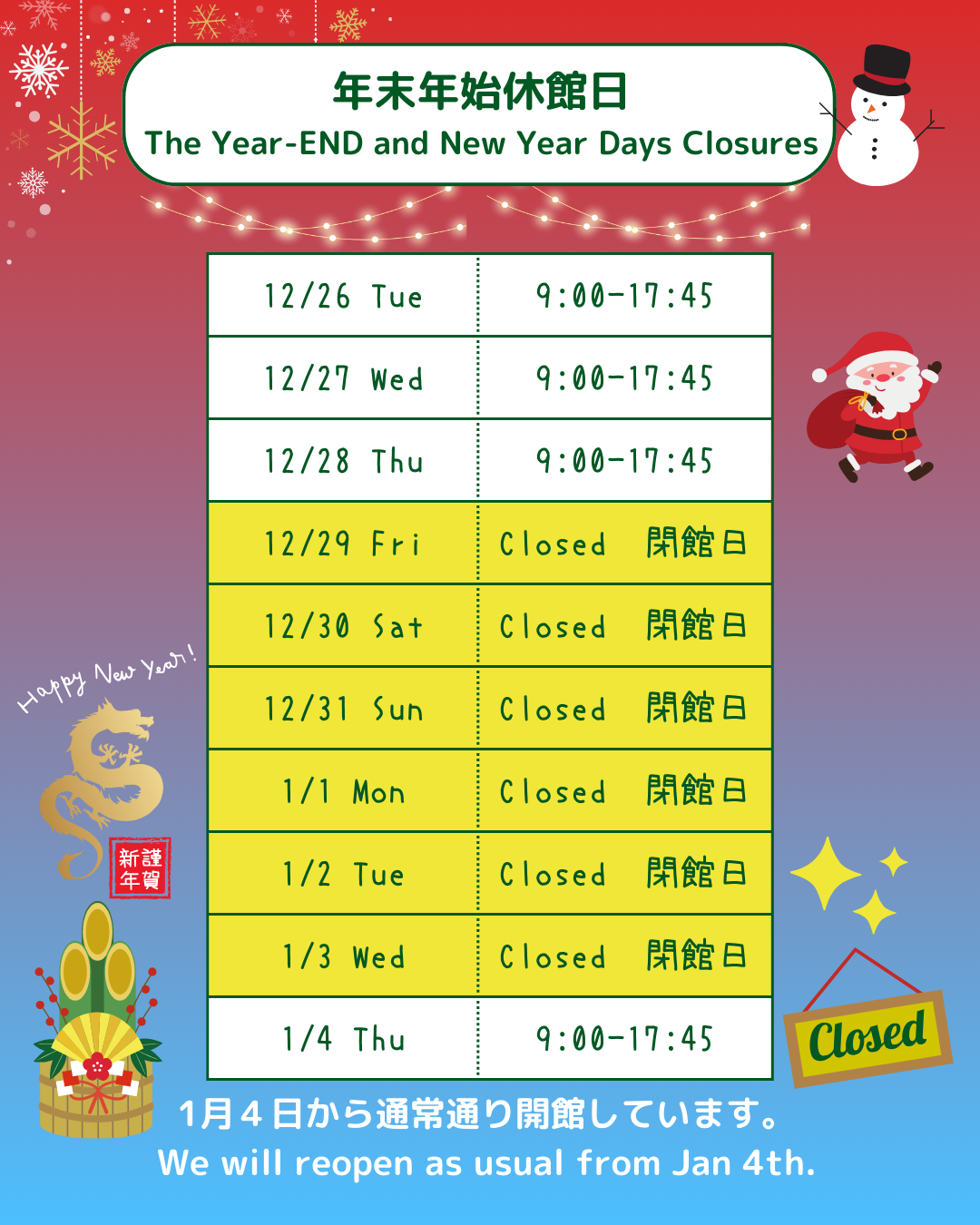 Parent's Salon Christmas Party🎁
The Parents' Salon is a multicultural gathering of parents and is a way to build a community with people also raising children in Aizu. Join us for a fun Christmas Party! We'll enjoy fun Christmas Tradi􏰀ons by making Christmas Crackers. There may even be a special appearance by Santa Claus!
■Date: Dec 9th (Sat) 10:00~11:30
■Place: Aizu Keikodo 3F Tatami Room
■Limit: 15 Families (~30 ppl)
■Cost: ¥500/per family(free for members!)
■Sign-up:via Google Form or email by Dec 8th (Fri)
        Google Form:
CLICK HERE

Christmas Movie Night🎄🎥
Hear about Christmas in Canada and England, then enjoy a fun movie and the Christmas atmosphere of the AWIA office! We'll be watching 'A Muppet Christmas Carol.' Come join us!
■Date: Dec 19th (Tue) 18:00-20:00
■Place: AWIA Office
■Cost: Free!
■Limit: 15 people(Age: Anyone!)
■Sign-up: Contact AWIA: (mail@awia.jp) by Dec 8 (Fri)
**Bring your own blankets/pillows for a more comfy movie experience!

Japanese Conversation Circle: AtsuHana🌼
 English Conversation Circle 'FIND' has been our most popular event over the last year. It has been a great way to practice English in a casual way. It can be difficult for Japanese-Learners to have the opportunity to speak Japanese casually, so we want to try out a Japanese version!
 Starting off with an ice breaking game, followed by Free Talk Time, use what Japanese you know!
 *Due to the nature of this event, we ask that participants wear masks. Thank you for your understanding.*
-Date/Time: Dec 10 (Sun) 10:00-11:30
-Place: Aizuwakamatsu City Learning Center(Keikodo) 3F Room 1
-Price: Free!
-Sign Up : Contact mail@awia.jp by Dec 9 (Sat)
あつはな: AtsuHana- This title has different meanings!
-Atsumare Hanasou: Let's get together and talk
-Atsui Hanashi: Hot (fired up) Chat
We chose it in hopes you can come together and have fun talking a lot with new people!

"FIND" English Conversation Club
FIND English Convo. Club will be held at the Fukushima Pref. Museum this month! Come chat and learn about the museum and Fukushima's history!
 FIND was designed by and for high school students, with the aim of creating a space for English learners to practice casual conversation skills.
 Although the club is mainly for students, adults with high English proficiency may also apply to join FIND as a language volunteers.
■Date/Time: Dec 16 (Sat) 10:00-11:30
■Place: Aizu City Learning Center (Keikodo)3F Room1
■Sign Up: Contact mail@awia.jp by Dec 15(Fri)              
Newsletter Prep and Refreshments
Help us to prepare our newsletters for mailing! On the last Saturday of every month, from 1:30 PM to 3:00 PM, AWIA members gather at the AWIA to fold and mail next month's edition of the newsletter. Come enjoy talking with other members while you help out the association. It's also an excellent chance to put your Japanese to use!

■Date: Dec 23 (Sat)
■Time: from 1:30 pm
■Place: Aizu Wakamatsu International Association Office

🍁Autumn Japanese Classes will be start!🍁Give your Japanese skills a boost!

The AWIA will soon be starting our autumn semester of Japanese language courses. With the aid of our experienced volunteer teachers, we offer courses ranging from beginner- level to advanced. Our classes strike a balance between reading, writing, and conversational skills. Class sizes are small, and some students may even have 1 on 1 lessons! Online lessons are also available on request. Come kick-start your Japanese skills with us this autumn!!


[Time]:
★Day Course: Every Friday 10:00~11:30 
Sep 1 - Nov 24 (no class Nov 3) 12 classes


★Night Course: Every Thursday 18:30~20:00
Sep 7 - Nov 30 (no class Nov 23) 12 classes
  
[Place]: Aizu City Learning Center(Keiko-do), 3F
[Cost] : AWIA members ¥4000,
     non-members ¥6000

[How to Sign Up]:
Please contact the AWIA and let us know your desired time slot by Thursday, August 24th.

TEL:0242-27-3703   EMAIL:mail@awia.jp


Online Japanese Class!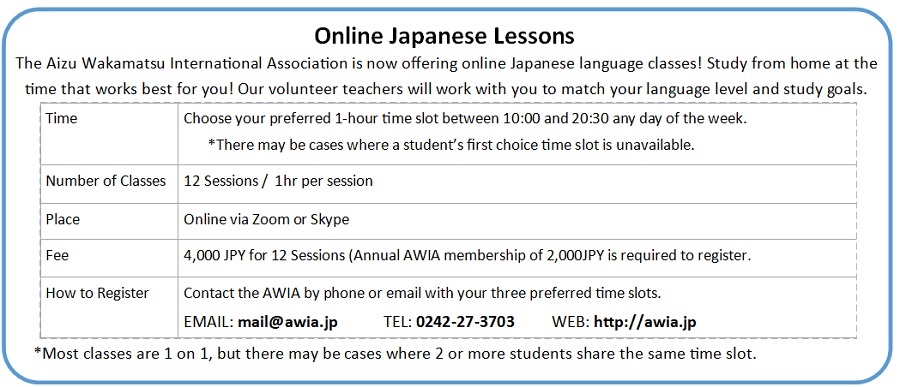 The Aizu Wakamatsu International Association is now offering online Japanese language classes! Study from home at the time that works best for you! Our volunteer teachers will work with you to match your language level and study goals.

【Time】:
 Choose your preferred 1-hour time slot between 10:00 and 20:30 any day of the week.
  *There may be cases where a student's first choice time slot is unavailable.

【Number of Classes】:
 12 Sessions / 1hr per session

【Place】:Online via Zoom or Skype

【Fee】:
 4,000 JPY for 12 Sessions (Annual AWIA membership of 2,000JPY is required to register.)

【How to Register】:
 Contact the AWIA by phone or email with your three preferred time slots.

EMAIL: mail@awia.jp TEL: 0242-27-3703
WEB: http://awia.jp

*Most classes are 1 on 1, but there may be cases where 2 or more students share the same time slot.

[pdf]

Coronavirus and Vaccine Updates
New updates April 2023

■Aizu COVID-19 Vaccine/Booster Updates

-Important Things to Know:

 COVID-19 Vaccines/Boosters will be

FREE

until April 2024

-Spring Booster Period (1 shot)

 May 8th to August 31st 2023

-Eligibility: (received the initial dose (1st/2nd shots),and their booster more than 3 months ago)

● 65+

● Aged 5-64 with underlying condi􏰀ons/are high risk

● Work in healthcare, high risk facilities

COVID-19 booster vouchers will be sent out in order of eligibility.

*If you still have an unused voucher, you may use that instead*

New updates December 2022-----------------------------------

■FREE COVID-19 Test Kits

 Fukushima Prefecture is still providing free COVID-19 tests to residents who are showing symptoms, or have recently been in close contact with someone with COVID-19. At time of printing, available until Dec 31st (Program has been extended multiple times.)

●Those with a risk for severe symptoms should seek medical attention.

-Deadline: Dec 31st 2022 (May be extended)

-Eligibility:

①Close contact with infected person

②Showing mild symptoms

-Apply(Online/By Phone):

Fukushima Pref. COVID-19 Kit Distribution Centre -

Hompage for testkit

0120-941-546 (9:00-19:00)

New updates August 2022-----------------------------------

In recent weeks, Japan has been seeing an increase in COVID-19 infections due to the BA.5 variant of the Omicron COVID strain. Please take care of yourselves!

■Free Vaccination Period

 The period for receiving a vaccine free of cost will end on September 30 (Fri). Anyone has not received their initial two vaccines or the booster should book an appointment as soon as possible. The city expects reservations to be in high demand in September, and only a limited number of clinics are providing 1st-3rd vaccinations now. To make an appointment, please use the online booking system, or call the reservation hotline.

■Online bookings: https://vaccines.sciseed.jp/aizuwakamatsu/login

■Reservation hotline: 0120-050-503 (Mon-Sun, 9:00-18:00) For more information, contact the Aizuwakamatsu COVID-19 General Call Centre (0570-026-263)

☆1st/2nd vaccination reservations by hotline only

☆You need your vaccination voucher number when making a reservation.

March 2nd.-----------------------------------

■Aizu Begins Distributing Booster Shots

 This month, Aizu-Wakamatsu will begin distributing the 3rd "booster" shot of the Coronavirus vaccine. Individuals who received their second dose of the vaccine last August can expect to receive their vaccination voucher in the mail sometime this month. For those who received their second dose in September or later, please keep an eye out for your voucher to arrive in April or May.

■Two Ways to Make a Vaccine Reservation

 After your vaccine ticket/voucher arrives in the mail, you are eligible to make a reservation to receive your vaccine. Reservations can be made by calling the reservation hotline, or by using the online reservation portal. The reservation hotline may be congested during certain hours, so we recommend making a reservation online if possible. Please follow the QR code enclosed with your vaccine ticket to access the online reservation system. When you make a reservation, you will need to enter the vaccine ticket number printed on your vaccine ticket, so please have the ticket on hand when you make a reservation. If you choose to make a reservation by phone, you will be asked about your preferred medical institution, so please prepare the names of 2-3 medical institutions near your home if you have a preference for where you wish to be vaccinated.

 If you need any assistance making a reservation, or have any questions about vaccine distribution, please do not hesitate to contact us at the AWIA! We are happy to help you make your reservation if you need any language assistance!

Aizu's Covid-19 Vaccine Rollout
78% of Aizu's Elderly Have Received at Least One Dose

 According to a report from the city office, 27,961 elderly people in Aizu had received at least one dose of the coronavirus vaccine as of June 20th. This number accounts for 78% of Aizu's 65 and over population.

*Once you receive a vaccine pass, please do not hesitate to contact the AWIA if you need any assistance making a reservation.

COVID-19 Hotline for Fukushima Foreign Residents

A COVID-19 dedicated hotline is now available for foreign residents in Fukushima.

Service is free of charge. Confidentiallity is guaranteed.

【Free Call】:0120-992-860

【LINE】:Scan the QR code

pdf

Links on COVID-19 related info.→

Click here


Important Notice!
Due to low foot traffic, the Aizuwakamatsu International Association Office will be CLOSED on Sundays starting in July.

 We will continue holding events on Sundays but our office will be closed to visitors. Stop by anytime from Tuesday to Saturday~ We would love to see you.